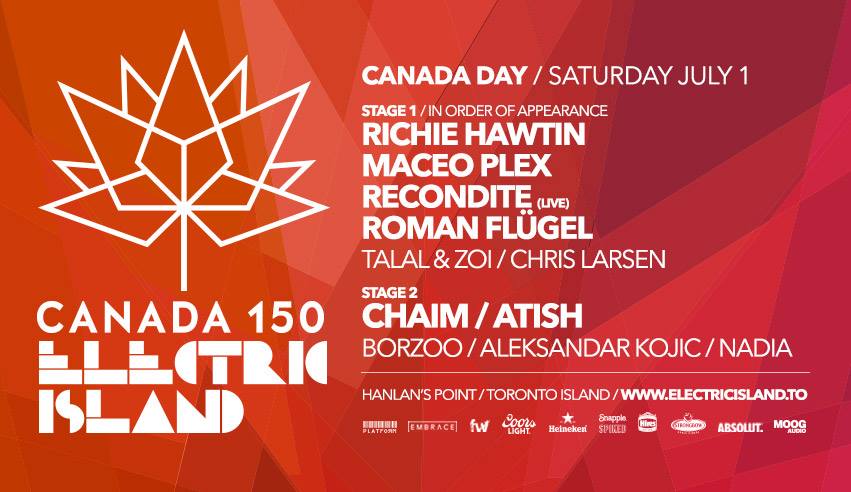 Following a successful season opener of Electric Island this past Victoria Day holiday, Toronto's concert + picnic series is already gearing up for one of the most special celebrations of them all – Canada Day! On Saturday, July 1st our beautiful country will turn a triumphant 150 years young, while Electric Island also celebrates its 5th Canada Day anniversary celebration. Today more than ever before, we feel grateful to be part of a community unified by music.
To help celebrate the many milestones, Electric Island has called upon Canada's electronic music pioneer, Richie Hawtin who will make his long-awaited EI debut. Joining Richie at the main stage will be fellow electronic music superstar, Maceo Plex! And yet, the star-studded line-up doesn't end there. We warmly welcome back Berlin-based techno producer Recondite, whose Electric Island set of 2015 remains a hot topic, along with Germany's chameleon of sound and founders of the Ongaku/Klang/Playhouse labels Roman Flügel. The second stage will offer patrons a more laid-back and intimate vibe with the deep, emotive melodies of Atish and Israeli musician Chaim both manning the decks. Last, but certainly not least, Toronto will get their familiar dosage of homegrown talent from local actsAleksandar Kojic, Borzoo, Chris Larsen, Nadia and Talal & Zoi. Toronto music lovers, this is a celebration that will go down in the books! Come celebrate #150 with music, friends, nature and a historical display of fireworks!
Tickets for the Canada Day edition of Electric Island may be
purchased here.

⚡️STAGE 1 ⚡️
★★★ MACEO PLEX ★★★
Ellum | USA
https://www.facebook.com/maceoplex
★★★ RECONDITE (live) ★★★
Germany
https://www.facebook.com/ReconditeMusic/
★★★ ROMAN FLÜGEL ★★★
Ongaku/Klang/Playhouse | Germany
https://www.facebook.com/romanfluegel/
★★★ SECRET GUEST ★★★
Check back soon for annoucement!
Support By:
★ Talal & Zoi ★
https://www.facebook.com/talalandzoi
★ Chris Larsen ★
⚡️STAGE 2 ⚡️
★★★ CHAIM ★★★
BPitch Control | Isreal
https://www.facebook.com/chaim.music
★★★ ATISH ★★ ★
Manjumasi | USA
https://www.facebook.com/atishmusic
Support By:
★ Borzoo ★
★ Aleksandar Kojic ★
★ Nadia ★
✿ Gates Open: 1:00pm
✿ Tickets are on sale NOW at http://electricisland.to/tickets
TICKETS STORE LOCATION:
Moog Audio (442 Queen St W)
Park Agency Print Shop (1418 Queen St W)
🎟HARD TICKETS: Contact us at info@wayofacting.com to get yours today! Lots of pick/drop off locations offered around the city.